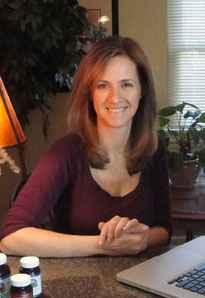 I'm Brenda M. Montrella, N.D., NDCNC, CNHP your doctor of naturopathy and owner of Everything Natural - Store and Everything Natural - Wellness Center in Altoona, Pa. I opened Everything Natural in June of 1996 because I wanted to help people achieve better health. Little did I know how much I would need it for my own family. My husband at the time was diagnosed with stage four colon and liver cancer. It was a blessing we were able to use natural health. He has remained cancer free ever since and he is here to enjoy and raise our two beautiful daughters. I am passionate about my efforts in natural health because I know first hand that it works and I'm committed to addressing the cause, not the symptoms of your health concerns. I am committed to your health and I thank you for your support.
Brenda M. Montrella, N.D., CNHP, CNC is a nutritional consultant who advocates traditional naturopathic, non-invasive therapies in her work. 
Brenda built Everything Natural Under the Sun a successful natural health store and a thriving holistic center called Everything Natural - Wellness Center that has served Central Pennsylvania since 1996. She is a passionate educator with Nauture's Sunshine and conducts local weekly education seminars. 
Recognized as a natural health authority, Brenda is a popular speaker for universities, special interest groups and corporations.
Brenda received her Bachelor of Science degree from Pennsylvania State University and her doctor of naturopathy degree from Trinity College of Natural Health. She is also a Certified Natural Health Practitioner and a Certified Nutritional Counselor.
Brenda Montrella treats the cause of the symptoms or imbalance of the body with herbs, minerals, detoxifying regimens, dietary changes, homeopathic remedies, and stress reduction.  Assortments of these approaches are used in an attempt to boost your natural defense, restore good health, and prevent disease.
Brenda lives in Hollidaysburg, PA with her two daughters.  She is devoted to developing community awareness concerning natural health and the importance of organic food.
Brenda's Professional Affiliations:
American Naturopathic Medical Association
American Association of Nutritional Consultants